Actu et nouveautés LEGO parues en juin 2013
Consulter les archives des news et des nouveautés LEGO de Figouz.net !
2013 : Déc. | Nov. | Oct. | Août | Juin | Mai | Avr. | Mars | Fév. | Janv.
2012 : Déc. | Nov. | Oct. | Juil. | Juin | Mai | Avr. | Mars | Fév. | Janv.
2011 : Déc. | Nov. | Oct. | Août | Juin | Mai | Avr. | Mars | Fév. | Janv.
2010

10234 SYDNEY OPERA HOUSE ! LE NOUVEAU SET RÉVÉLÉ PAR LEGO À L'OCCASION DU BRICKWORLD DE CHICAGO !
:: Dimanche 09 juin 2013 ::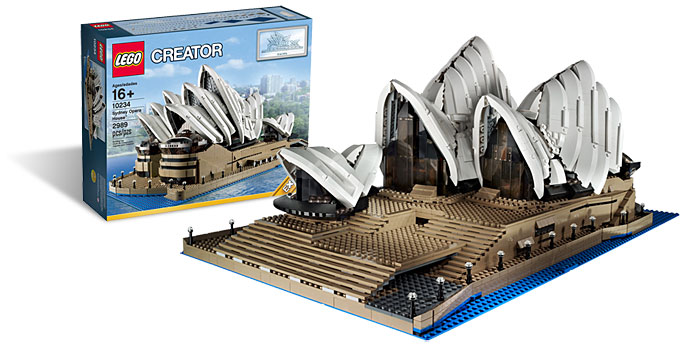 Le 10234 Sydney Opera House est un gros (énorme !) et magnifique set flagué du ruban « EXPERT » révélé ce matin par LEGO au Brickworld de Chicago.
Conçu par Jamie Berard, ce magnifique set qui paraîtra en septembre 2013 compte près de 3000 pièces et sera vendu au prix de 280 € environ. Il saura je pense également combler les MOCEURS pour son bel inventaire de pièces de couleur Tan, Dark Trans, etc. !
Le communiqué de presse LEGO :
10234 Sydney Opera House™

Ages 16+. 2,989 pieces.
Recreate Australia's architectural masterpiece!
US $319.99 CA $379.99 DE 279.99€ UK 249.99 £ DK 2499.00 DKK

Recreate one of the 20th century's most distinctive buildings with the Sydney Opera House™ model. Build the unmistakable shell roofline, waterfront forecourt and more with this authentic representation of Australia's most iconic building. Employ a variety of new and advancedbuilding techniques to recreate the complex forms, angled walls and subtle detailing of the real thing! Collect lots of dark tan LEGO® bricks including the rare 1x1x2/3 stud and 1x2x2/3 stud slopes, as well as a 48×48 stud baseplate in blue for the very first time!

Build this model of a UNESCO World Heritage Site!
Includes hard-to-find dark tan LEGO® bricks, tiles and sloped bricks!
Collect the 48×48 stud baseplate, available in blue for the very first time!
Sturdy construction allows the model to be handled and moved!
Features advanced building techniques for complex forms, angled walls and subtle detailing!
Measures over 11″ high, 25″ wide and 15″ deep!

Available for sale directly through LEGO® beginning September 2013

DÉCOUVREZ LES REVIEWS ET GALERIES DE PHOTOS HD DE 4 NOUVEAUX SETS Lego Star Wars 2013 : les sets 75019, 75020, 75021 et 75025 !
:: Dimanche 09 juin 2013 ::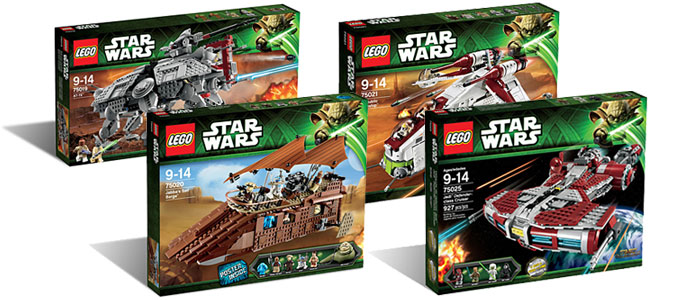 Conçues sur le même modèle que chaque review de sets LEGO de Figouz.net, découvrez 4 nouvelles pages dédiées réunissant toutes les photos HD, informations, caractéristiques et prix de 4 sets LEGO Star Wars du second semestre 2013 !

10236 EWOK VILLAGE UCS | Découvrez toutes les photos et infos du nouveau set LEGO Star Wars 2013 révélé aujourd'hui !
:: Samedi 01 juin 2013 ::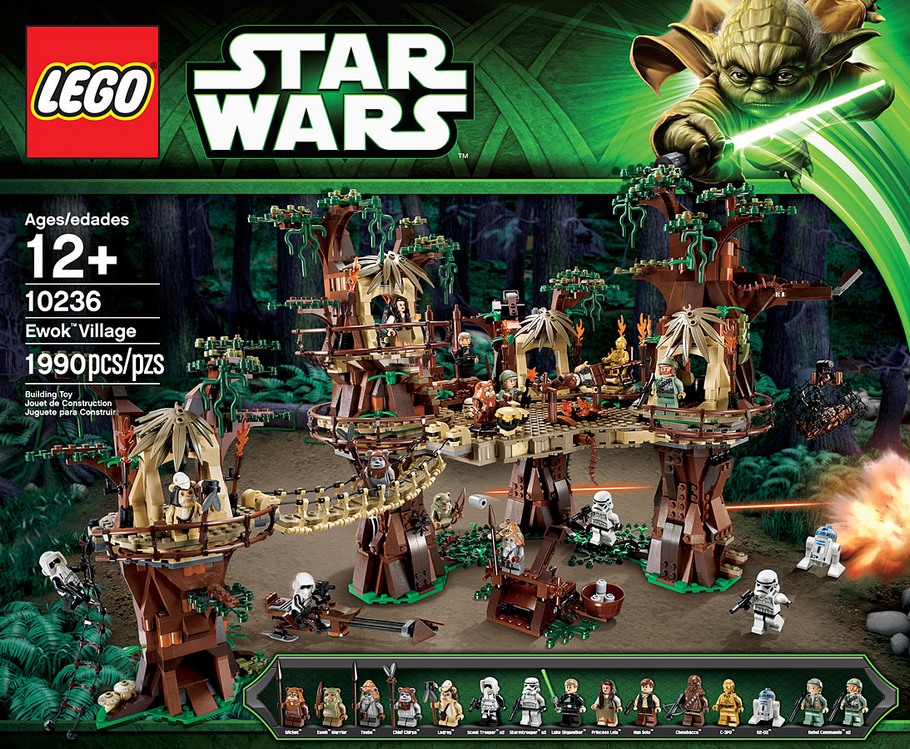 LEGO a su préserver le secret sur le très mystérieux set LEGO Star Wars 10236 Ewok Village jusqu'à la parution de son communiqué de presse officiel. Truffé de belles photos, je vous invite aujourd'hui à découvrir ce set UCS qui à mes yeux est une véritable réussite.
Il rejoindra à n'en pas douter ma collection même malgré son prix de 249.99 € ! Mon seul regret réside dans les minifigs présentes dans ce set. Bien que très nombreuses, LEGO n'ayant pas lésiné sur la quantité, je les ai déjà en multiples exemplaires dans ma collection dans plusieurs versions.

Consulter les archives des news et des nouveautés LEGO de Figouz.net !
2013 : Déc. | Nov. | Oct. | Août | Juin | Mai | Avr. | Mars | Fév. | Janv.
2012 : Déc. | Nov. | Oct. | Juil. | Juin | Mai | Avr. | Mars | Fév. | Janv.
2011 : Déc. | Nov. | Oct. | Août | Juin | Mai | Avr. | Mars | Fév. | Janv.
2010